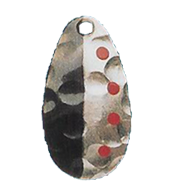 Our 206 is essentially a 202 with a shadow. The half-black front of the 206 combined with the flash of the silver makes this an excellent silhouette presence. In the game fish world often the predator instinctually reacts to movement and silhouette of its prey. The 206 will work for all gamefish and is really an excellent pattern.
This colorless lure will out fish any lure of color without a specific use.
The 206 is available for all spinners, including tandem spinners.
Products Available in Pattern 206